The Thames River Yacht Club welcomes all visiting boaters. We are pleased to offer reciprocal overnight dockage to members of other yacht clubs. Come visit us, throw something on one of our barbecues, sit by the fire and tell us a sea tale, roast a smore, or just relax, you are truly welcome at TRYC. Depending on water levels, boats with draft over 6.0′ may have problems entering our basin.
Visitors should park along the gravel near the harbour along Harbour Drive. All guests with pets MUST keep their pets controlled and clean up after their pets. Pets are not allowed in the cottage or gazebo.
Limited slips are available. Reservations are recommended. Please contact us to do so.
Skippers are advised to use caution when entering the Thames River channel at night without local knowledge. Channel buoys have been moved recently.
Latitude and Longitude of TRYC
42.31729N 82.45218W
Our basin is located on the South side of the Thames River apx 50 meters upstream of the Thames River Lighthouse. This historic lighthouse is one of the oldest lighthouses on the Great Lakes and it's right in our backyard! The Lighthouse has been completely restored and is maintained by the Lower Thames Valley Conservation Authority.
On August 14, 2000, the Minister of Canadian Heritage formally designated the Thames River as a Canadian Heritage River.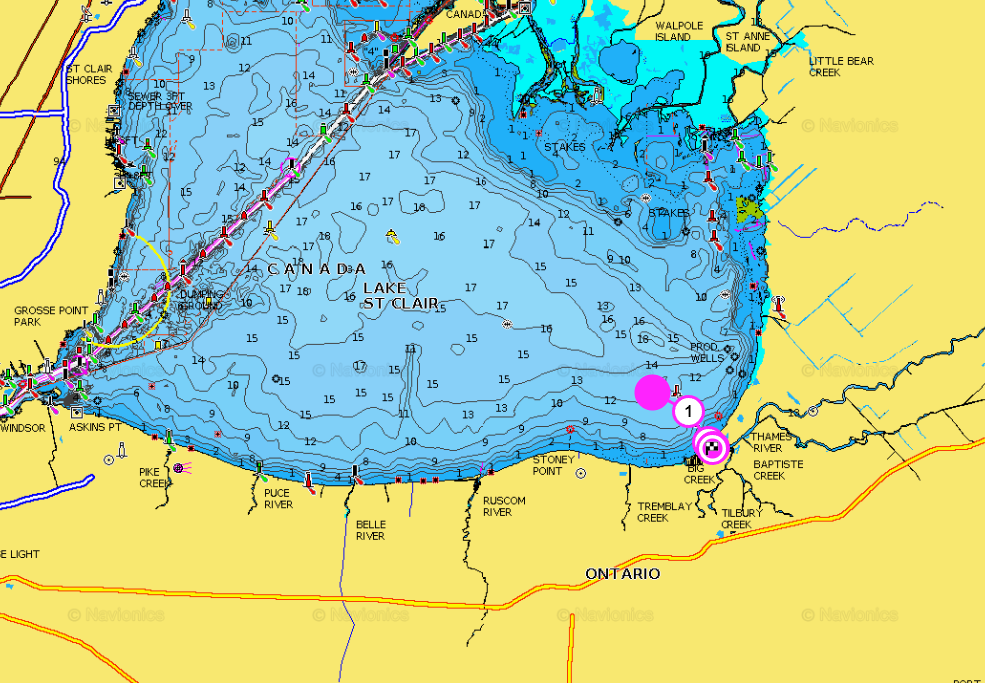 ---
Driving Directions to TRYC
Coming from London/Toronto
Head West on HWY 401.
Take the SECOND Tilbury Exit #56. (there are two exits for Tilbury, please ensure you take the correct exit)
Make a right turn at the stop sign on the off ramp.
Take the first right hand turn right away onto Edgefield Side Road.
Continue up to a Stop sign.
Make a right turn onto Lakeshore Rd. 303.
Take the first left turn onto Big Creek Rd.
Continue up to a Stop sign.
Make a left turn onto Tecumseh Rd. (#2)
Take first right at Lighthouse Side Rd (CR-39).
Follow road to the end, there will be a bend in the road to the right (road turns into 1st Concession).
Follow this road also to the end, there will be another bend in the road to the left (road now turns into Tidselle Dr.)
This road will bring you into Lighthouse Cove.
You will pass a variety store (on your left), follow bend in road to the right.
First street after bend is Harbour Dr.
We are located on the left hand side just after the Conservation Area – 19308 Harbour Dr.
There is signage at the road.
Coming from Windsor/Detroit
Head East on HWY 401.
Take the FIRST Tilbury Exit #56. (ther are two exits for Tilbury, please ensure you take the correct exit)
Make a left hand turn one you come up to the Stop sign on the off ramp.
Go over the overpass.
Take the first road on your right past the on/off ramp (Edgefield Side Road).
Continue up to a Stop sign.
Make a right turn onto the Lakeshore Rd. 303.
Make a left turn onto Big Creek Road.
Continue up to a Stop sign.
Make a left turn onto Tecumseh Rd. (#2)
Take first right at Lighthouse Side Rd (CR-39).
Follow road to the end, there will be a bend in the road to the right (road turns into 1st Concession).
Follow this road also to the end, there will be another bend in the road to the left (road now turns into Tidselle Dr.)
This road will bring you into Lighthouse Cove.
You will pass a variety store (on your left), follow bend in road to the right.
First street after bend is Harbour Dr.
We are located on the left hand side just after the Conservation Area – 19308 Harbour Dr..
There is signage at the road